DRUGS IN SPORT - AT LEAST WE'LL ALWAYS HAVE ROCK'N'ROLL TO FALL BACK ON - 12" LP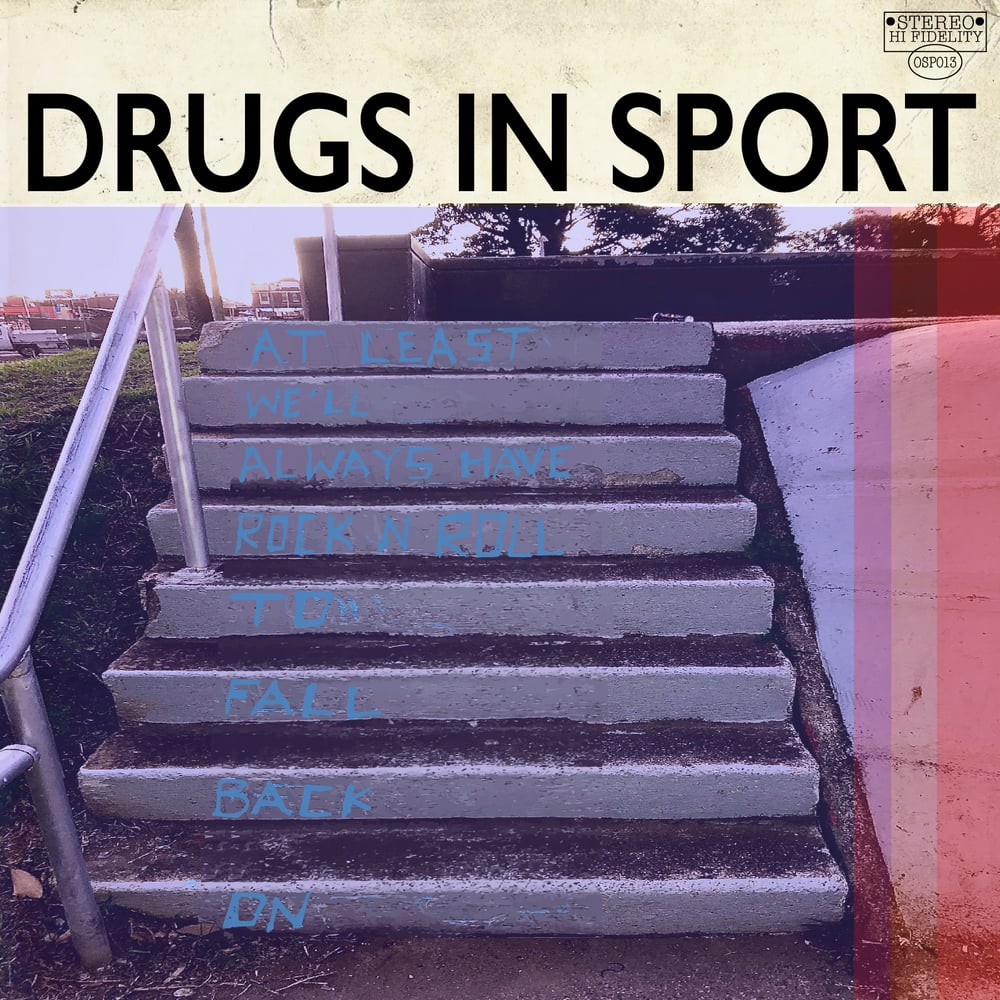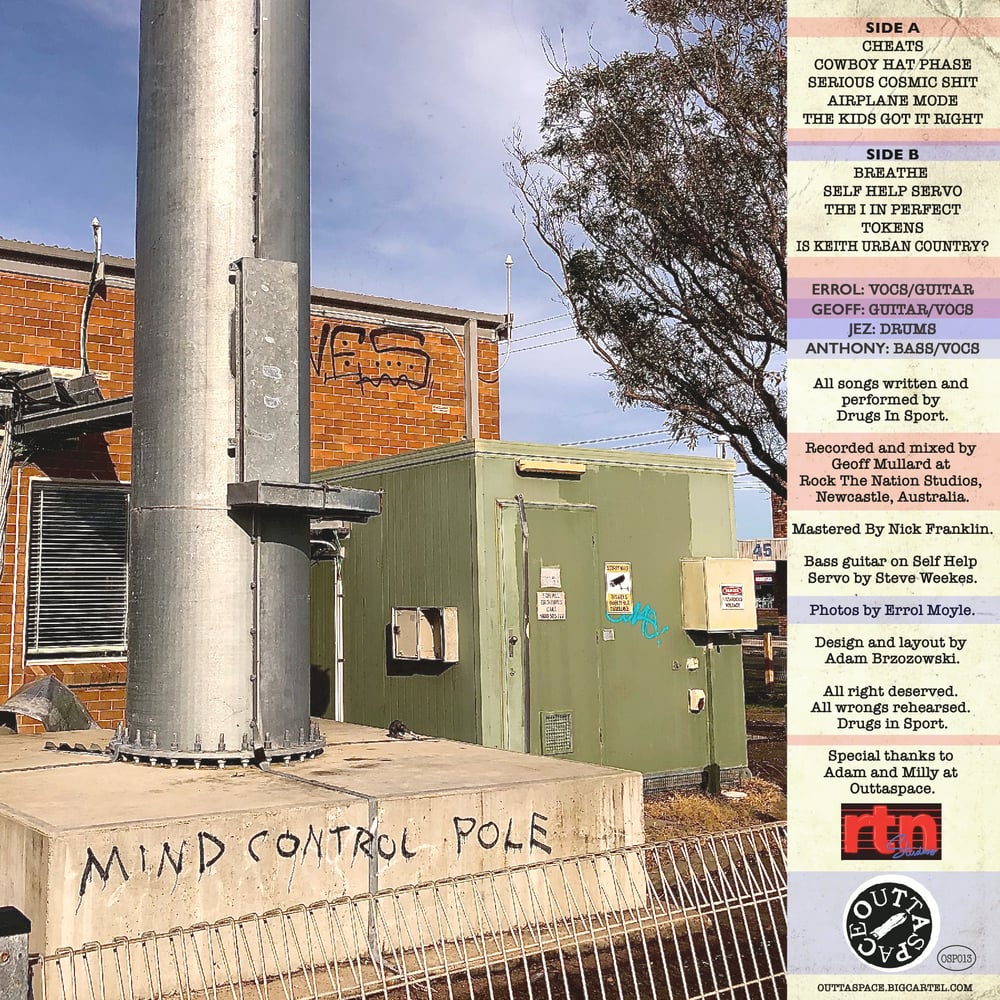 DRUGS IN SPORT: AT LEAST WE'LL ALWAYS HAVE ROCK'N'ROLL TO FALL BACK ON
OUTTASPACE: We first saw DRUGS IN SPORT when they played at our cafe/original live music venue in Woy Woy on 13 February, 2021, with THE OWEN GUNS. We thought they were a punk band and didn't know much about them musically, mainly because we were running around like blue-arsed flies trying to work out how the croissants appeared in the cold cabinet, and how to run a venue in a global pandemic. We did know they were from Newcastle, and that's about it. DRUGS IN SPORT played first, and we were blown away by their twin axe attack and cutting lyrics. We'd scrounged a crap PA made of stuff we found on the side of the road, and bits and pieces kindly loaned by friends. Naturally, it shat itself halfway through DRUGS IN SPORT'S set, which was highly embarrassing. They calmly sat on the footpath while we rang every soundo on the Central Coast, begging for help. Ma Tu, THE OWEN GUNS' drummer, fixed the rig with… we still don't know. "I RAN SHITTY PUNK VENUE IN CHINA," he said, by way of explanation. Another few shows in our beer garden (and a PA upgrade) and we were smitten. The "hey...wanna put out a record?" conversation started from there. And luckily, they had one: AT LEAST WE'LL ALWAYS HAVE ROCK'N'ROLL TO FALL BACK ON.
DRUGS IN SPORT: Me [Errol], Geoff and Anthony have been playing together in BEEFWEEK for 20 years; we all go way back. In mid-2019, Chris from BEEFWEEK packed up and moved to NZ so BEEFWEEK was on the shelf. If you ask Jez, it all started one night after a BEEFWEEK show. Jezz and I didn't really know each other at all, only from seeing him at shows. I was packing up and he came up and introduced himself, blah blah blah: "I've heard some of your songs on Soundcloud and if you ever need a drummer, give me a call". Cough! Well, I pretty much brushed him and said something shit like "nah man, I don't have the time or interest". He still brings it up and will forever hold me to account for my initial prickliness. Anyway... (and like, a week later Chris announces he's moving so all of a sudden, it turns out I did have time)... I sent Jez a message and patched up my previous poor form and invited him over for some beers and a bash… we pretty much instantly clicked. From there we all spent late 2019 getting it together jamming, partying, recording, partying, jamming, recording and partying at our cultural clubhouse, RTN Studios. We played one show. Then Covid. Then a few more shows. Then Covid. And then now.
OUTTASPACE: This isn't your first time at the rodeo. Most of you have played in BEEFWEEK -- any others?
DRUGS IN SPORT:
Errol: MUZZY PEP and ERROL JM (solo stuff)
Anthony: THE OUTLIERS
Geoff: EAST COAST LOW
We all have very similar influences and taste in rock. We all came up through the early/mid-'90s. None of us have mainstream tastes at all, so anything underground and gritty from that era is what we all have in common. I tend to venture down the more 'slacker' indie rock road more so than the others. I'm totally and utterly obsessed with GUIDED BY VOICES (and yes it's a cult) and have been since 1997. Fuck, I own like 43 of their records. Geoff just listens to SWERVEDRIVER and THE BEATLES. Depending how drunk he is he might throw on some DISCHARGE or early BUTTHOLE SURFERS. Anthony (Frammo) is a bit of a mystery man. I mean, he does go down the GBV rabbit hole and he loves THE FAUVES. But there's a whole other jazz side to him that I have no idea about. Jez...also a bit of a mystery man. He loves BOB MOULD and he's been rating the new QUICKSAND album. He's a sucker for a catchy guitar riff. We all love to fuck with Bon Scott-era AC/DC. That shit is magnificent.
OUTTASPACE: How was it recording and mixing with your own guitarist and singer [Geoff] at the helm?
DRUGS IN SPORT: RTN Studios was the obvious choice. That's where we hang out, it's where we jam. It's a whole new world of freedom having a member of the band own a studio. We couldn't have made this album the way we did anywhere else. We were still a very green band, and having the luxury to experiment and spend time on ideas in the studio without watching the clock was perfect. Plus the fact we all really enjoy getting very drunk and carrying on like dickheads. I doubt any other engineer or studio would have put up with our bullshit for too long.
OUTTASPACE: How long did it take?
DRUGS IN SPORT: We recorded the album over a pretty spread-out period throughout mid 2020-mid 2021, tracking two or three songs at a time over roughly 12 months. Quite a few songs didn't make the album cut due to various reasons. Some simply didn't fit or we failed to capture the right take. We'd turn up to the studio at 10am, crack a beer, spark up a doob and stagger out of there at about 1am not even remembering what we'd tracked until the following day on play back.I can't stress enough how much fun we had. A laugh a minute. Some of this album wouldn't have been possible without the patience and sober help from our fake manager, Liam (the boss) Dixon, who took to the mixing desk most nights after the rest of us were deemed incapable. And… I forgot to credit him on the album cover. Massive fail on my behalf. He assures me it's no big deal and that he's still our manager/spirit guide.
OUTTASPACE: 'AT LEAST WE'LL ALWAYS HAVE ROCK'N'ROLL TO FALL BACK ON' is an absurd statement. It channels some of the good-natured bitterness you see from Australian indie bands like THE FAUVES…
DRUGS IN SPORT: Our album title is equal parts sarcasm and utterly sad reality. I mean, our parents' advice upon leaving school (failing school) was to get a trade. Something to fall back on, because none of us were going to be brain surgeons (except maybe Frammo...smart cookie). As it turns out, we all did get trades and unfortunately we've all relied heavily on them to survive. At the same time we've all been playing in bands since high school with the extremely faint hope that one day rock'n'roll might pay the bills instead of the boring reality of what we've actually had to fall back on to survive. So, it's 99 per cent sarcasm. Four middle-aged men thinking rock'n'roll is going to save their life is thoroughly absurd, right? But maybe it already has. We'd be far poorer humans without it.
OUTTASPACE: We like the fact that some DRUGS IN SPORT some are politically charged without being smug or preachy (for instance, Cowboy Hat Phase).
A lot of my songs end up taking on a political spin of some form. Often not on purpose. There just seems to be a constant flow of subject matter thrown in our face day to day. If you're not outraged by the political governance of the world, then you're not paying enough attention. Modern communication has enabled us a closer glimpse into the constant barrage of bullshit, smokescreening, corruption and injustices of modern-day politics. Watch the eyes, not the hands. It's almost like, now that we're more aware and informed on how the corridors of bullshit operate, the more we accept it as "oh well, that's just the way it is" constantly distracted by the slogans, side stories and spin. And it's modern technology that has given politicians the platform to spread the distractions, like the shitty B-grade parlour magicians they are. And too many of us lap it up. As a songwriter, I would never directly preach any particular political stance. I believe there needs to be a certain amount of content that's left to the listener's personal interpretation for it to be deemed art.
DRUGS IN SPORT 'AT LEAST WE'LL ALWAYS HAVE ROCK'N'ROLL TO FALL BACK ON'
(OSP013)
SIDE A
CHEATS // COWBOY HAT PHASE // SERIOUS COSMIC SHIT // AIRPLANE MODE // THE KIDS GOT IT RIGHT
SIDE B
BREATHE // SELF HELP SERVO // THE I IN PERFECT // TOKENS // IS KEITH URBAN COUNTRY?
CREDITS/DEETS: MILLY TO ADD