MD HORNE'S LAST CALL - HIGH TIDES, MORE CRIMES - 12" LP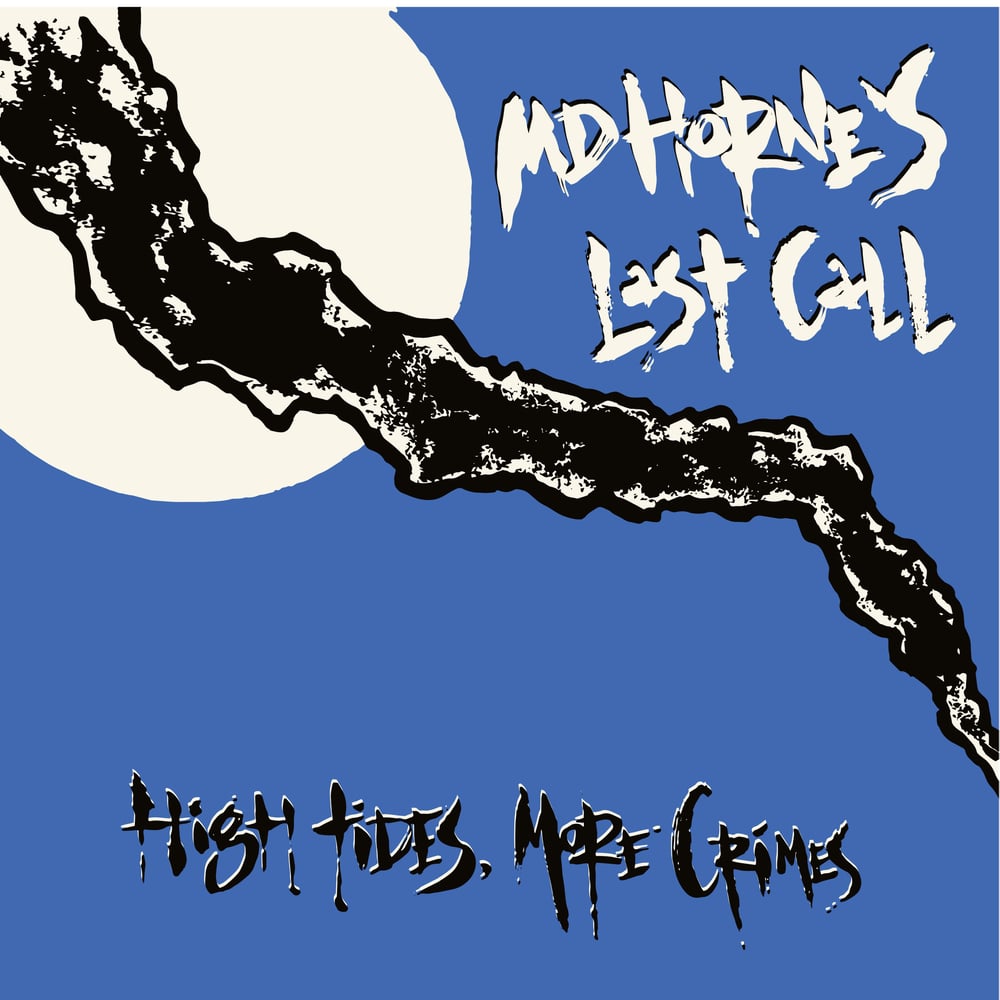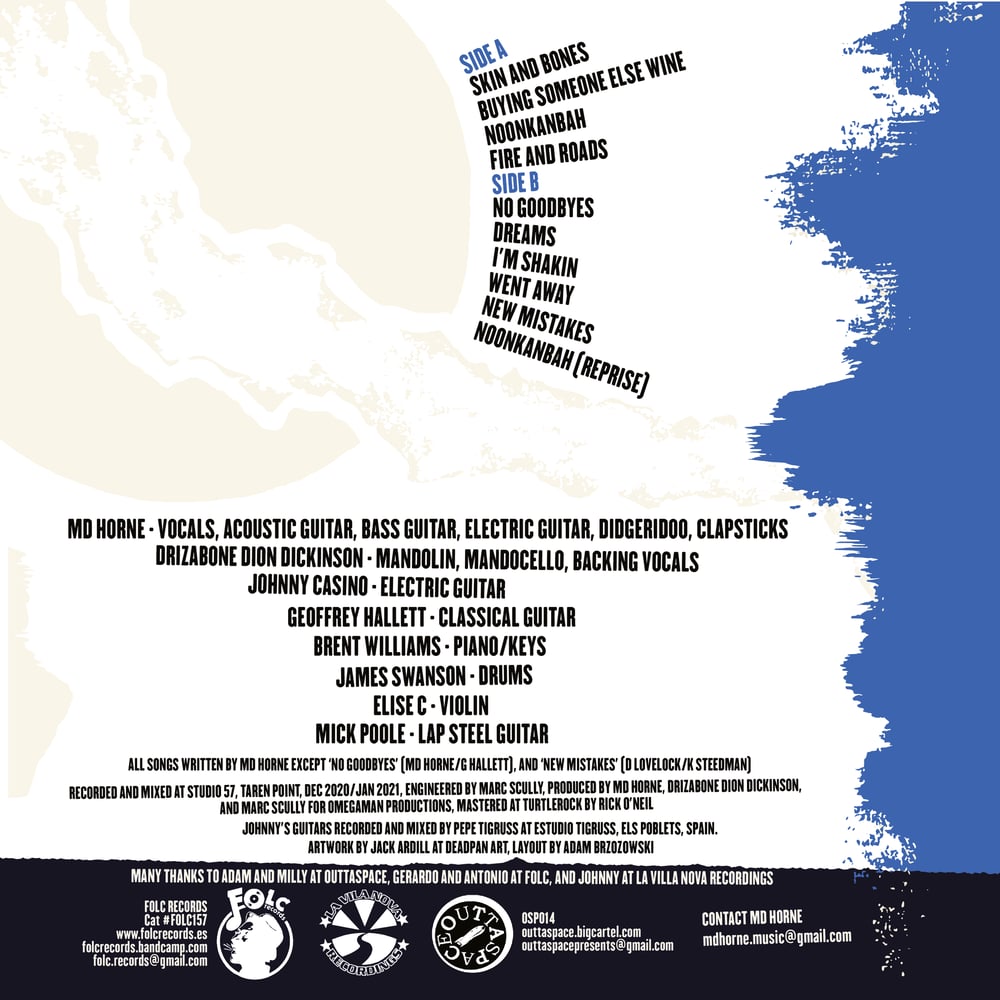 MD HORNE'S LAST CALL -- HIGH TIDES, MORE CRIMES (Outtaspace, FOLC Records, La Vila Nova Recordings)
HORNEY. DARKO. LIZARD. MARKO. BRUISER. MD HORNE. Or just plain Mark. You know the fella; must have had a thousand beers with the bloke. Grew up with Darko at Cronulla; we used to sneak into the St George Sailing Club. Knocked around with Marko at the Trade Union Club. Bassman in 300 St Claire -- yeah, that's him. Played with Johnny Casino and the Secrets; The Lowdorados, plus a few more...
Celibate Rifles fanatic; mad-keen surfer; do anything for ya. That's the one -- Mark Horne. Used to have a yarn with Lizard about the pilgrimages to Bendalong barrels; life, death and those Angourie 10-footers. Heard he ripped out a solo record last year, Red Dirt Bituman. It's called a pun, mate. It's Horney all over. Have ya seen Marko 'round the traps lately?
MD HORNE has been head down, arse up, tapping a rich sea of stories which defy the mojo-sapping conditions of the past 18 months. He's found his mob, and his rhythm, with HIGH TIDES, MORE CRIMES -- the first LP by MD HORNE'S LAST CALL, and the follow-up to 2020's solo LP RED DIRT BITUMAN (recorded in 2017 at Tigruss Studio, El Poblets, Spain; released 2020); a "grittily Australian...clever, stripped-down blues-rock album"* recorded with and produced by long-time cobber/compadre/conspirator Johnny Casino. Skip to December 2020 and January 2021, and Studio 57 at Sydney's Taren Point, a world away. It's MD HORNE'S stomping ground, and he assembles his crew.
"The album started out when I was jamming for a gig at Petersham Bowling Club with Driza [from Aussie bushpunkers Handsome Young Strangers et al] and Banjo Thrash [classical guitarist Geoff Hallett] down at Taren Point, and I thought 'Jeez this is sounding alright … I wouldn't mind booking into the studio for the day, just to record what we had … and I had Mick [Poole] playing a bit of slide as well.
"I'd intended to write a whole new album, but I had the songs .. so for the gig I wanted to play half the songs [I hadn't played before] and the other half off Red Dirt Bituman.
I listened back straight away and I thought, 'I'm chuckin' bass on this' on the same day (because we did the recordings live), and … there was a young drummer there at the studio [James Swanson] who plays in China Tiger and the Hot Potato Band … so the songs I did from Red Dirt were played in full band mode, as opposed to when I recorded them with Johnny Casino when I was in Spain. [Noonkanbah/I'm Shakin/Went Away].
"Johnny produced everything in a lovely, minimalist way that he can do, and this is sort of the way I was going to be playing with the band, so … to add more onto it, I sent the tracks over to Johnny in Spain and he put his guitar down, and it was just magic.
"Then I thought I wanted to see how it sounded with some violin, so Elise C [Medusa's Wake] stepped in … and then I wanted to hear a bit of keys, so my good mate Brent Wlliams [ The New Christs] contributed there, and it came up unreal.
"I thought it was finished, but it occurred to me that my version of New Mistakes [by The Celibate Rifles] HAD to be on the record. The studio had the next day free, and I did everything on it. He [Damien Lovelock] saw me and Johnny Casino play it on a boat cruise once, and he loved it."
A true collaboration across oceans and hemispheres, HIGH TIDES, MORE CRIMES has elements that straddle genres; one minute the mandolin, mandocello and violin sets up an Irish reel; the next, lap steel and guitars throw alt-country's hat in the ring. Songs of love; loss; renewal; hope.
"The record is fantastic. Somehow it has the spirit of Chris Bailey, The New Christs, The Drones, Nick Cave and The Pogues without sounding like any of them. It's exciting to hear something with some class. I'll be buying a copy." -- Link Meanie
Proudly released on vinyl by Outtaspace (Australia) in an exclusive collaboration with FOLC Records and La Vila Nova Recordings, Spain. Limited edition of 150 worldwide.
MD Horne: vocals, acoustic guitar, bass guitar, electric guitar, didgeridoo, clapsticks
Dion Drizabone Dickinson: mandolin, mandocello, backing vocals
Johnny Casino: electric guitar
Geoffrey Hallett: classical guitar
Brent Williams Piano/keys
James Swanson: drums
Elise C: violin
Mick Poole: lap steel guitar
Recorded at Studio 57, Taren Point, NSW, Australia, by Marc Scully Dec 2020/Jan 2021
Johnny's guitars recorded and mixed by Pepe Tigruss, Estudio Tigruss, Els Poblets, Spain
Produced by MD Horne, Drizabone Dion Dickinson and Marc Scully for Omegaman Productions
Mastered at Turtlerock by Rick O'Neil
Artwork: Jack Ardill, Deadpan Art/Jack Ardill Art
Layout: Adam Brzozowski, Outtaspace
Contact MD HORNE: [email protected]
Outtaspace: [email protected]
FOLC Records: [email protected]
La Vila Nova Recordings: [TBC]
Quotes: Craig Barman, I-94 Bar; Link Meanie; MD Horne