SPACE BOOZZIES - Livin' up the Coast! - 12" LP (OUTTASPACE) - OUT NOW!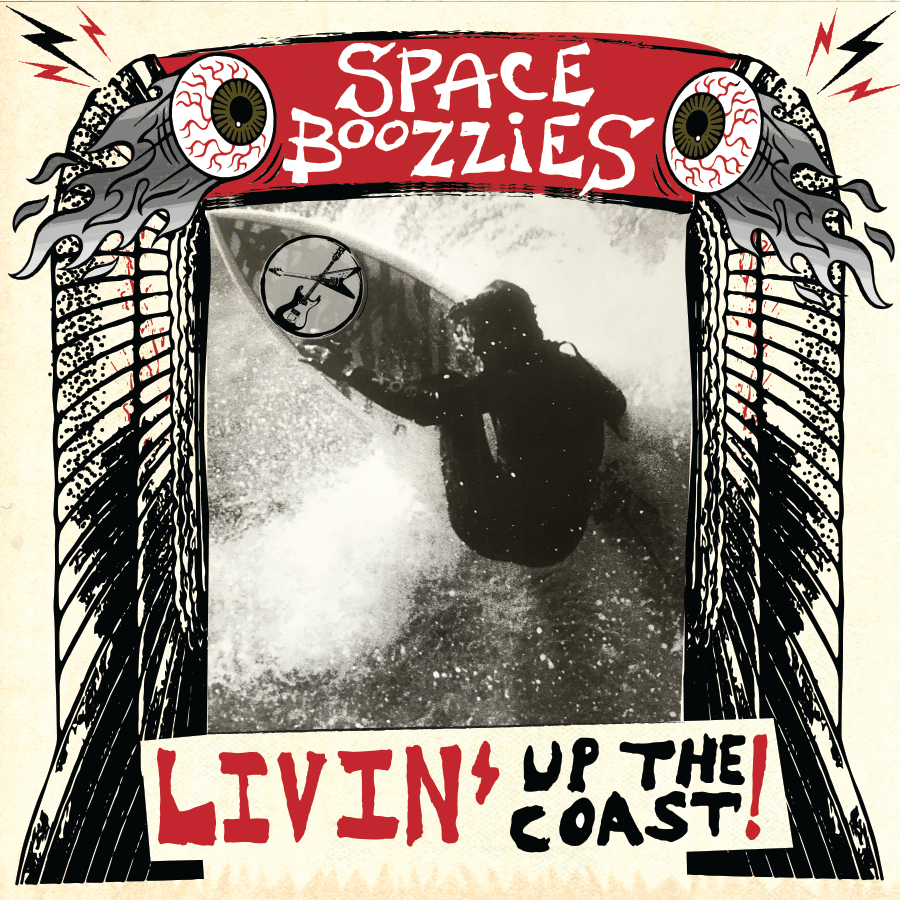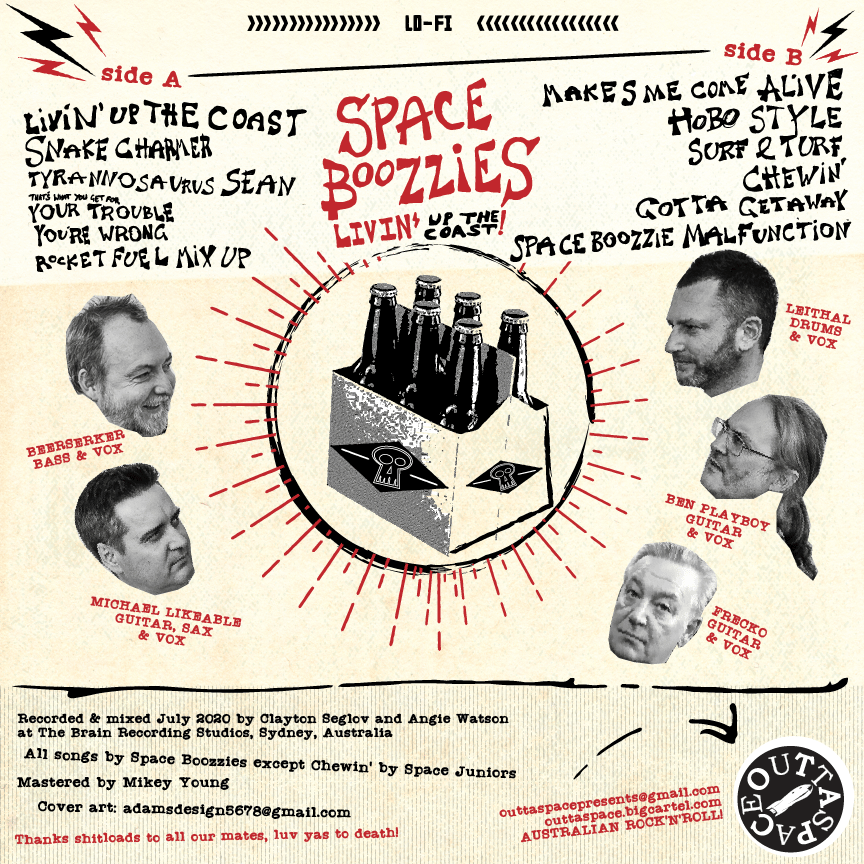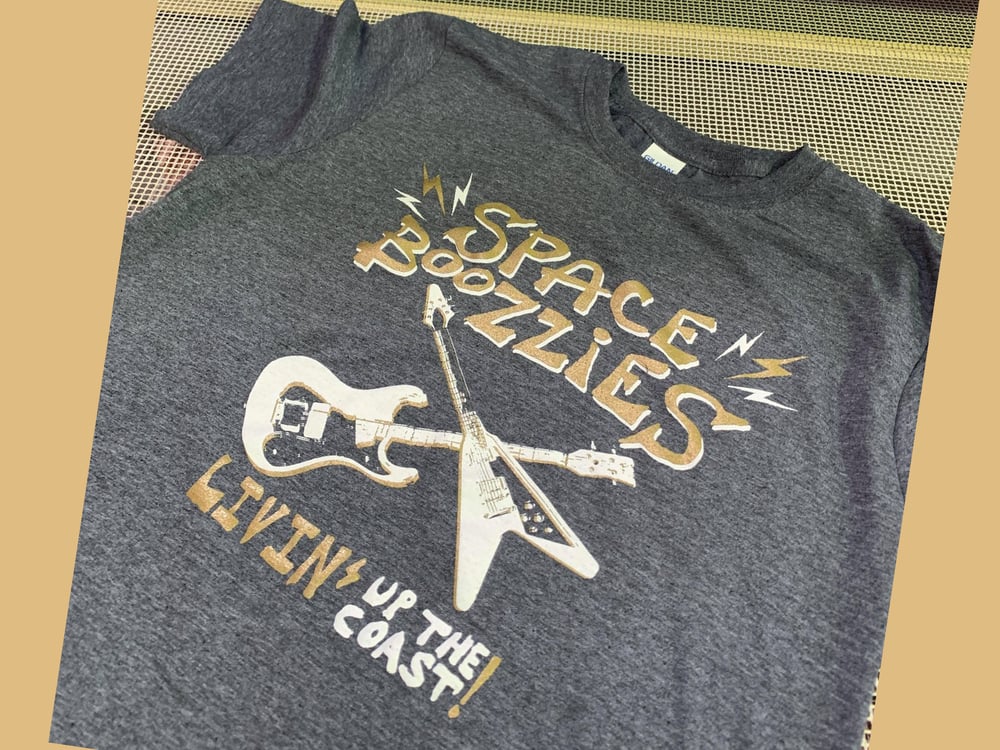 It's been business as UNUSUAL for Woy Woy's SPACE BOOZZIES, recording LIVIN' UP THE COAST!, the follow-up to the SOLD OUT debut 12" I FEEL ALRIGHT! in a day session at Sydney's Brain Studios straight after NSW's hard lockdown in 2020.
Originally slotted for late March, the Boozzies rescheduled the trip to COVID COUNTRY, instead whiling away three months sucking on their shiny silver namesake, monitoring the goon levels at BWS as the three-casks-per-shopper rule was rolled out, and enjoying DOUBLE DOLE while that shit lasted.
The previous LP copped a feel from everyone – from Spewy's mum to Byron Coley of FEEDING TUBE records in Massachusetts, US, who said: "One of the best straight-ahead bursts of Australian punk classicism in quite a while … I love the weird stuff, of course, but the power of the basics is undeniable."
A three-axe thrasher and semi-tribute to Mosrite and Flying V guitars, LIVIN' UP THE COAST! "reeks of irreverence [and] stale beer", as if "The Ventures were a bunch of old pissheads" and "exhumes the Ramones and puts them in a footy jersey and thongs".
LIVIN' UP THE COAST! welcomes Frecko to the Space Boozzies' teat. You may have seen him shredding in Roddy Ray'da and the Surfin' Caesars, and The Thermals, or hoofing gear around the traps. We found him on a train between Sydney and Newcastle and enticed him to do his thing live and on this record.
Track 1: Livin up the Coast! explores the Coastie way of life. It features:
*Gronks and grannies living out the back
*Blokes with tinnies walking down the street
*Don't need a shower don't brush your hair, and
*Going down the shops in your underwear.
Track 2: Snake Charmer
A song about a sexpert. Sorry, SERPENT.
Track 3: Tyrannosaurus Sean
If ya can't call ya mate a dickhead occasionally, are ya really mates? Just quietly.
Track 4: That's What You Get For Your Trouble
Deep garage, Sonics-style punk which explores love gone wrong.
Track 5: You're Wrong
A buzzsaw sound reminiscent of the COSMIC PSYCHOS. Don't argue with Frecko!
Track 6: Rocket Fuel Mix Up
Redux of the 40-second version of the song which opened the Short Fuse Volume 1 punk compilation released by Wreckless Enterprise in between LPs.
Track 7: Makes Me Come Alive
Spewy's thundering version of a love song, complete with sax. It's a ripper.
Track 8: Hobo Style
AKA The Man Who Liked Beer Too Much.
Track 9: Surf N Turf
Instrumental with "echoes of the Crusaders' 'Seafood Basket'". Which is, incidentally, SPACE BOOZZIES' FAVE FRIED FOOD GROUP.
Track 10: Chewin'
It wouldn't be a BOOZZIES album without a cover, and this is it. A tribute to '80s spazzoids SPACE JUNIORS, one of whom apparently lives up here.
Track 11: Gotta Get Away
Basically a bitch about work and performance reviews/corporate jive.
Track 12: Space Boozzie Malfunction
This is a true story about Space Boozzies flying to Melbourne to do gigs at The Tote and Last Chance Rock'n'Roll Bar. It's also about forgetting to pack your fucking amp/trousers. Features vocals by every Boozzie, including Ben Playboy and Lei Thal.
Recorded at Brain Studios with Clayton Seglov and Angie Watson. Mastered by Mikey Young in Melbourne.
150 copies on delicious 12" vinyl; art by Spewy.
Review quotes from I-94 Bar and Last Chance Rock'n'Roll Bar's Rock'n'Roll Magazine, 2020; Byron Coley's Twitter, 2019.
Extra limited T-shirt bundles available - 2 Large left only (write size in order notes)